Computer Classes In Kalyan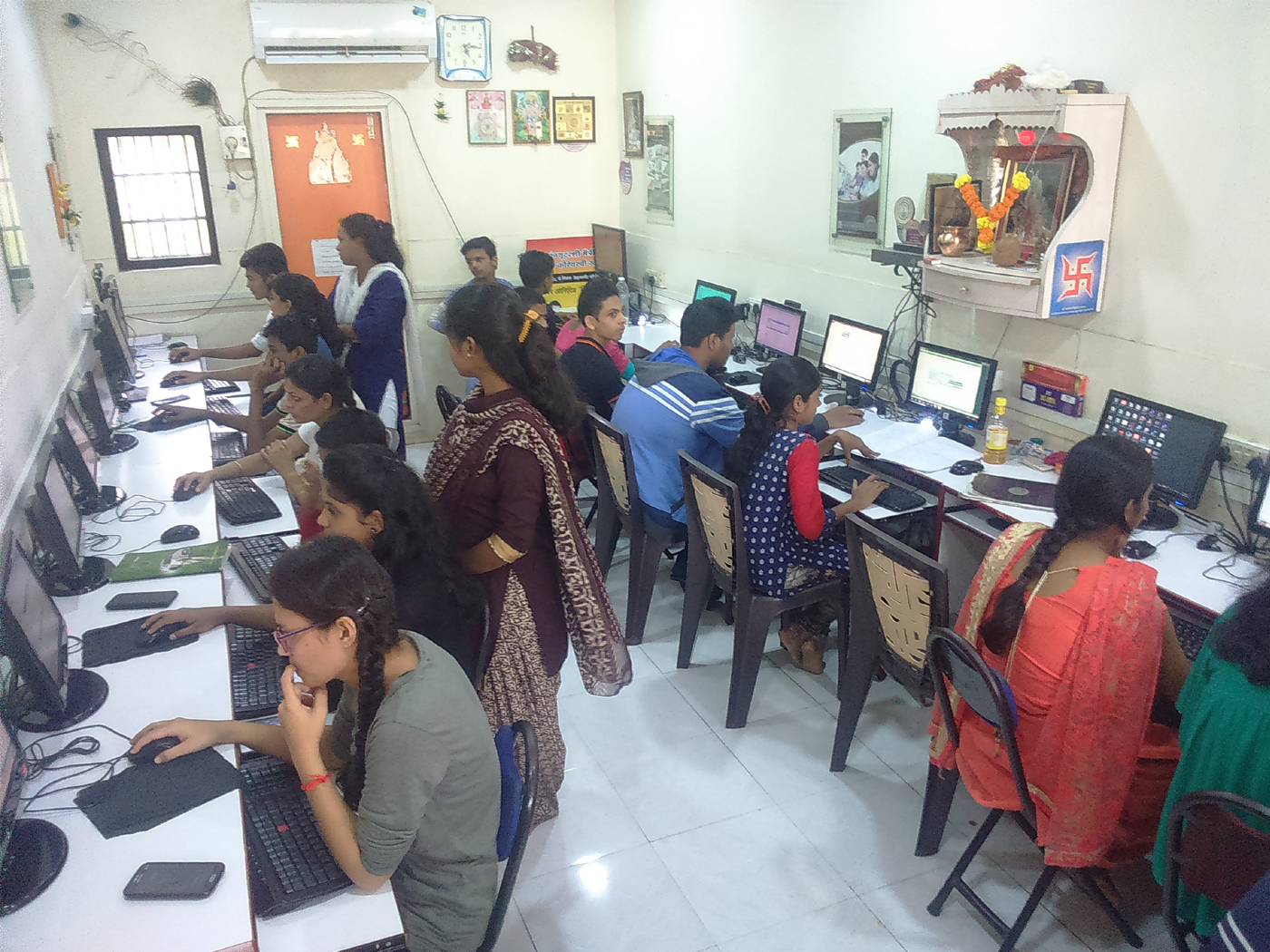 Looking for the best computer classes in Kalyan? Well, you have certainly come to the right place! From college-level computer courses like BSc. IT and computer science to Autocad, Programming, Tally, MS-CIT, and even advanced Excel, you name it, we have got it.
We strive to train you in all aspects of IT and computer science. Our tightly run training sessions with close-knit groups of students are the ideal environment for you to learn the skills that will take you forwards in your career.
So, what makes us the best computer classes in Kalyan? Let us offer you a glimpse of what we can do for you!
Importance of Computer Education
Let us picture three scenarios that best explain the vitality of computer education in the modern world.
You have a great business idea. A B2B service provider that has every potential to become a mini unicorn. But you do not have any idea of task automation. This automation will help you save a lot of money in the initial phase of your budding business.

You are an avid gamer. You are inspired by the works of the game designing greats like Bioware, Bethesda and Rockstar studios. You hope to one day work at a prestigious game studio and add your creativity to game design. But how do you start?

Your colleague was supposed to prepare and deliver a presentation using analytics and data from an excel sheet. They are ill and suddenly you are asked to fill in their shoes. This is your moment to shine but your Excel know-how is sub-par. Will this moment slip through your fingers?
The scenarios highlighted above are great examples of how computer education will help you set up a thriving career and shine in your current endeavours!
In scenario 1, if the individual had a basic understanding of programming and how it can help him/her, then it would help cut costs at the budding phase of a business.
The individual in scenario 2 hopes to one-day master advanced programming and/or animation. These two are some of the most technical fields of modern computer science. They also offer highly rewarding careers!
Scenario 3 is a clear-cut example of how competent computer and software know-how will make you stand apart from the herd at your workplace. Programmes like Excel are extremely powerful tools in the modern workplace.
So, are you convinced now about the power of good computer training? Looking to enrol at your nearest computer classes? Let us take you through some of the courses that you can find in a computer class in Kalyan.
Popular Computer Courses in Kalyan
When it comes to IT and Computer Sciences, there are hundreds of courses that one can pursue. Each course will add to your skill set and take you to new career vistas.
Amongst these many courses, there are a few popular ones that form the basic stepping stone to your journey down this avenue. Here are a few courses that are popular in computer classes in Kalyan.
MS-CIT
MS-CIT is, without a doubt, the most popular computer course in the state of Maharashtra. It is also the ideal place to start on your journey to complete computer mastery.
Started in the year 2001 as a means to propagate IT literacy, this short 2-month course will help you learn the very basics of IT functionality and applicability.
Tally
Tally is the country's most widely used accounting software. In today's world, Tally has become a prerequisite for accountants and auditors.
At its core, Tally is a great business accounting and inventory management software that rivals and outperforms excel in certain aspects. A must for individuals who want to pursue a career in accounting and business analytics.
Advanced Excel
Move over advanced Excel, most people fail to manoeuvre through basic Excel principles. The crux of the problem is the fact that people either disregard the true potential of Excel or are too overwhelmed by the sheer number of functions and features of the software.
Our Advanced Excel courses try to help you realize, first and foremost, that Excel is not as daunting as you think. With a little practice and a little patience, you will have Excel in your pocket in no time.
And trust us when we say having Excel in your back pocket will be a game-changer in the professional workspace.
MS-ACIT
MS ACIT is a purpose-built computer education program designed for educators. If you are a teacher, then you know that the world of education is at a crossroads. The old methods of teaching are making way for newer, exciting ways to impart knowledge.
The very classroom is going digital. But are you? MS ACIT is designed to help you do so!
Academic Courses
Our computer training institute also provides classes that will help you excel at academic computer courses like BSc. IT and BSc. CS. For FY, SY and TY candidates. We also provide computer tuition for 11th and 12th Science IT students.
CCC
Course on Computer Concepts is designed to impart basic computer operational knowledge to the common man. This is designed for you if you are finding yourself lacking in computer skills and are hampered in your workplace as a result.
The CCC course will educate you on all the basic concepts you need to know to move up the ladder of IT literacy.
Along with these courses, at ICI computer Academy, you can also enrol for courses on Web Designing, Graphic Designing, AutoCad, Programming (C & C++, .NET, Core and Advanced Java, SQL, Oracle) Mobile App Development. And many more.
To find out more about our courses, you can visit our dedicated page linked HERE.
How to find us?
If you stay in Kalyan and are looking for computer classes in Kalyan west, then we are but a stone's throw away from you. ICI Academy, our computer classes near Khadakpada will cater to all your computer education and IT training requirements.
You can contact us through the details provided here on this website by clicking HERE. Feel free to ask us all your worries and queries from programming and web design to the very basics of Excel and Tally.
Fees and Course timings for Computer Classes in Kalyan
FAQs
As an adult can I still enrol for computer classes?
There is no age limit for knowledge. We welcome individuals from all age groups and provide the personalised training required from individual to individual. You are never too old to learn about computers and IT.
How many courses are available at ICI Computer Academy?
We have over 100 different courses available. There are basic courses like MS-CIT and Advanced Excel to advanced programmes like programming languages and coding. Here is a list of all the courses that are available.
Do remember that you can get in touch with us through this website. You can call us on our phone number 9322876924. You can also consider mailing us at icicomputeracademy2001@gmail.com. There are so many career paths that open for you once you have adequate computer and IT training. So, what are you waiting for? Enrol today at ICI Computer Academy one of the best computer classes in Kalyan.